VolleyballUSA.com's Low Cost Beach Volleyball Sand for Sale
Purchase your volleyball sand from the leader in beach volleyball court construction.
We've been constructing beach volleyball courts for the past 20 years. We've been manufacturing long lasting equipment here in the United States and instructing homeowners / contractors how to prep /drain courts properly. It's been disappointing in the past to build beautiful volleyball courts with great equipment in perfect settings and end up with bad sand.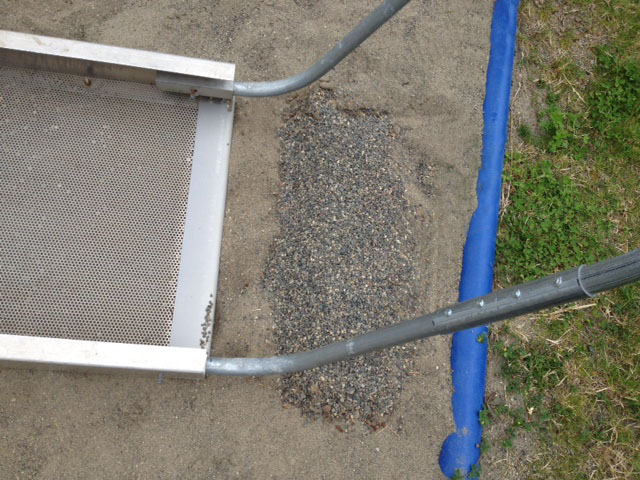 Example of Masonry Sand's Pea Gravel Content removed with VolleyballUSA.com's

Grate Sand Device

.
Year after year we were asked where to find or buy good volleyball sand. Our stock answer in the past was to have you call around and ask for washed masonry sand. This answer has proved itself over and over to be the wrong one. When you call 10 or so local sand and gravel companies asking for a volleyball sand they will tell you "they have something" or "this is what we have sold in the past." They are in the business of selling sand and it's very expensive to return so they get to sell a product with no return policy. It's very rare to speak to someone selling sand and gravel that plays beach volleyball. They have no idea if the sand they sell is great for volleyball or not.
The reason beach volleyball sand is difficult to find is that it can be unpleasant to play in for 3 separate reasons or any combination of them.
It can be too dusty.
It can be too coarse.
It can compact too much.
For us to confirm that a sand is good to play volleyball in, we constantly evaluate sands we've sourced throughout the United States to provide the best possible product closest to your location. Mother nature only makes so much and it constantly changes depending on how much material was at a site to begin with and how much is being removed for other projects. We have reviewed approximately 25-50 sands in our popular markets trying to provide the best possible sand to play volleyball in at the lowest price. Certain parts of the United States are much more difficult to find good volleyball sand in and we feel our research and experience are well worth the years you will play volleyball on your court(s).
With the volume of courts we build we have developed exclusive relationships with sand plants throughout the United States to make volleyball sand for us to resell to our customers. We often make thousands of tons at a time with most of our customers requesting 100-200 tons for their court projects. A single customer can't request a sand plant to make ideal sand since the volume is too low.
In addition to selling volleyball sand we offer a SSR (Sand Sieve Report) for sand that you may have found on you own. For $180 you can ship us up to 5 samples for us to process and provide individual SSR's on. These SSR's will include a comparison to popular beach volleyball locations around the United States so you can see how your local sand compares.
Since sand is very heavy and expensive to ship back and forth many of our court construction customers have loved this reporting process giving them piece of mind that the sand they have found will work for years and years for them. Suprisingly many sand plant managers value these reports too as it provides future confidence for them when selling their product to other customers.
For a further education about beach volleyball sand please continue reading below:
Volleyball Sand is not Masonry Sand, Golf Course Bunker Sand or Play Sand
Masonry sand is typically full of dust, little pebbles, or both. Masonry sand on average will typically have 3-5% dust in it with most companies screening out only 1/8" rocks or bigger. We've seen many courts built with Masonry sand that have 10% pea gravel content!!! These courts built with this bad sand will be dusty, cut your feet, knees and elbows and will pack often after rainfall. Finding sand without these three issues hasn't been easy. We spend countless hours working on sourcing / blending / screening sand to meet volleyball criteria and we do it often times to compliment the equipment we sell.

Golf sand is made to pass the fried egg test with golf balls. This means if a golf ball hits the sand only half the golf ball submerges in the sand. This is the exact opposite of what you want with beach volleyball sand. You want your knees, elbows and feet to sink in the soft sand. Applying the fried egg test in beach volleyball means substituting a golf ball for a knee cap or elbow and results in a scrape,bruise, bone contusion, dislocated shoulder, broken bone, etc....

Play Sand is designed to be sat in and played with by little kids and is sold at a lower price. To keep the price low they don't remove the dust. It has lots of dust that is very noticeable as soon as you put a bunch of it down and start playing volleyball in it.

Do not use golf sand for volleyball courts!!!
It's too abrasive
The reason we are the leader in the United States in volleyball sand sales. We take a different approach.
We start with sand currently in use at popular spots around the country like Manhattan Beach, Santa Barbara, Ft. Myers, Etc... and make our volleyball sands in major metropolitan areas to closely match these beach sands just like Mother Nature did. The cost is typically more than Masonry Sand since it costs money to pay people to hydraulically spin the dust out of the sand and to remove all of the small pebbles that scrape up your skin. It takes a sand plant a long time to mechanically screen out the small rocks and pebbles when making 200 tons of sand for a standard size volleyball court.

In most areas a homeowner cannot ask a sand plant to make volleyball sand. Sand companies do not want to stop production of their profitable sands to make a few hundred tons of volleyball sand. Since we build so many courts around the country we can pay them to do this process and in return re-sell the sand to the volleyball marketplace in need of this product.

Choosing the right kind of sand for your budget:

We are the only company in the world currently manufacturing equipment and volleyball sand to help build courts for Universities, Resorts, Companies, Homeowners, Boy Scouts, Girl Scouts, Eagle Scouts with everyone having a different budget. Often times people reach out to us to ask us for pricing initially but please feel free to ask us to work in reverse if you are trying to build a court within a certain budget. Please call us for pricing 1-800-494-3933.

Example of our volleyball sand ready to deliver. Color is determined by the site the sand is sourced, screened and blended at.
We ship free samples of our volleyball sand upon approval of our quoted price for you to review and approve before delivery.
VolleyballUSA.com's Sand Volleyball Estimator helps you to estimate the sand tonnage required for your job.
After you know how much material you need, please call 1-800-494-3933 for a free estimate.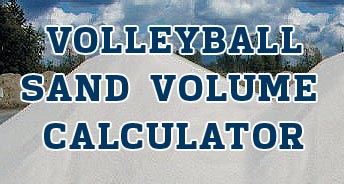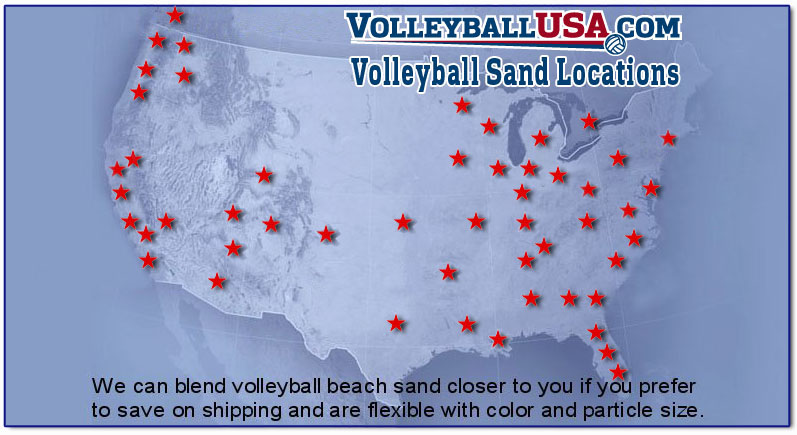 If you need any volleyball equipment at guaranteed low prices, click on the links at the top of the page!
Call Toll Free to Order 1-800-494-3933
Open 8 a.m. to 6 p.m. Everday