We've been constructing beach volleyball courts for the past 20 years. We've been manufacturing long lasting equipment here in the United States and instructing homeowners / contractors how to prep /drain courts properly. It's been disappointing in the past to build beautiful volleyball courts with great equipment in perfect settings and end up with bad sand.
Year after year we were asked where to find or buy good volleyball sand. Our stock answer in the past was to have you call around and ask for washed masonry sand. This answer has proved itself over and over to be the wrong one. When you call 10 or so local sand and gravel companies asking for a volleyball sand they will tell you "they have something" or "this is what we have sold in the past." They are in the business of selling sand and it's very expensive to return so they get to sell a product with no return policy. It's very rare to speak to someone selling sand and gravel that plays beach volleyball. They have no idea if the sand they sell is great for volleyball or not.
Beach Volleyball sand is often difficult to find and unpleasant to play in due to a combination of the following reasons:
It can be too dusty.
It can be too coarse.
It can compact too much.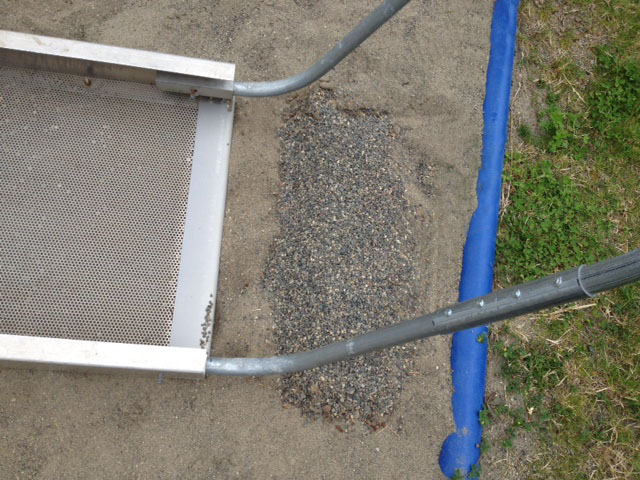 Masonary sand's "pea gravel" being removed by Volleyball USA's Sand Grate.
For us to confirm that a sand is good to play volleyball in, we constantly evaluate sands we've sourced throughout the United States to provide the best possible product closest to your location. Mother nature only makes so much and it constantly changes depending on how much material was at a site to begin with and how much is being removed for other projects. We have reviewed approximately 25-50 sands in our popular markets trying to provide the best possible sand to play volleyball in at the lowest price. Certain parts of the United States are much more difficult to find good volleyball sand in and we feel our research and experience are well worth the years you will play volleyball on your court(s).
With the volume of courts we build we have developed exclusive relationships with sand plants throughout the United States to make volleyball sand for us to resell to our customers. We often make thousands of tons at a time with most of our customers requesting 100-200 tons for their court projects. A single customer can't request a sand plant to make ideal sand since the volume is too low.
In addition to selling volleyball sand we offer a SSR (Sand Sieve Report) for sand that you may have found on you own. For $180 you can ship us up to 5 samples for us to process and provide individual SSR's on. These SSR's will include a comparison to popular beach volleyball locations around the United States so you can see how your local sand compares.
Since sand is very heavy and expensive to ship back and forth many of our court construction customers have loved this reporting process giving them piece of mind that the sand they have found will work for years and years for them. Suprisingly many sand plant managers value these reports too as it provides future confidence for them when selling their product to other customers.