1) Dimensions:
The playing area consists of the court and a safety space around it measuring 15 feet in each direction. (56'3" x 82'6") (If you don't have this space, smaller courts can be built, call for recommendations). The space above the playing area should be free of obstructions. If trees are nearby that cannot be removed we recommend using our Grate Sand Device to periodically clean the tree debris from the sand.
The playing area (52'6" feet by 26'3" feet and are measured from the outer edge of the boundary lines) should be level and consist of good quality volleyball sand to a thickness of 18" within the boundary lines which prevents players from contacting the underlying surface and a surrounding sand thickness of 12" to keep sand costs down.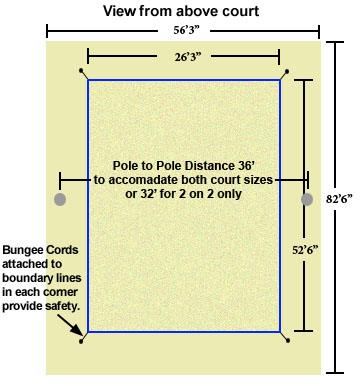 2) Prepping the site:
After determining the number of courts you plan to install remember to orient the courts as close to possible so that they are running north-south. This orientation provides the best non-glare playing environment so that one team isn't looking directly into a rising or setting sun during competition.
With competition volleyball it is common for volleyballs to be hit at unpredictable angles at times thus the more space you have between the courts the less often teams will have to re-play points when a ball from another court enters their court. A minimum distance of 20' is recommended between courts and a division made with court banners, netting or bleachers installed between the courts is even better.
You will want to excavate the area per our Lateral Drainage Configuration below.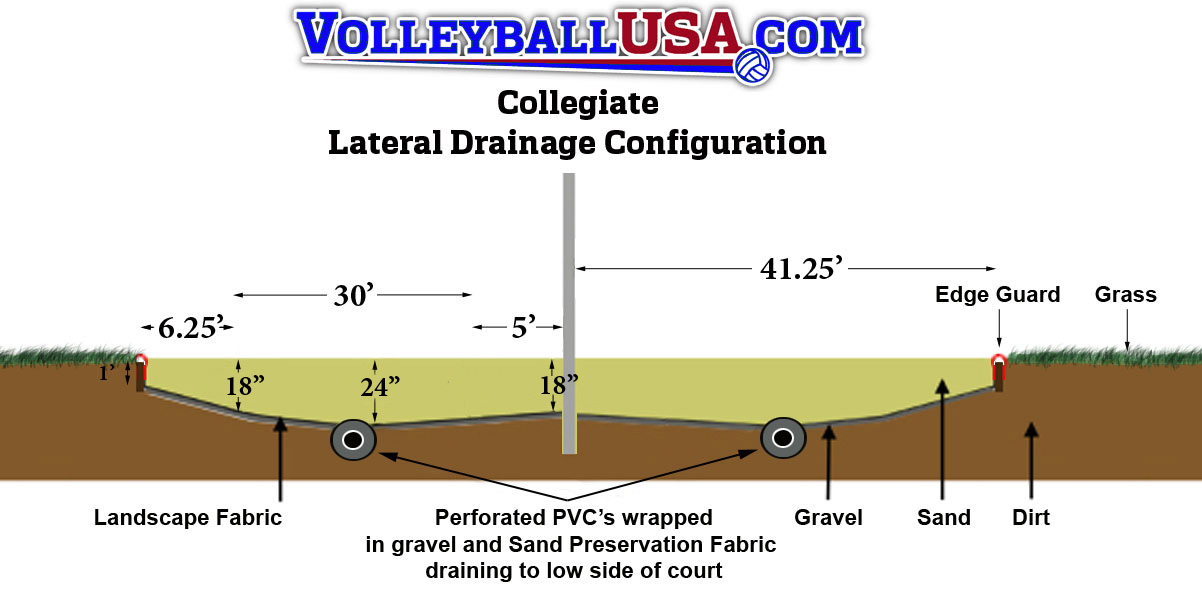 If you are building in an area prone to flooding or with lots of standing water you will want to increase your gravel travel layer from a standard 4" to a 12" depth. The gravel should be rounded such as pea gravel or river rock and provides rain water a quick path to the perforated PVC pipe which drains to area away from the courts.
After the area has been excavated you'll want to install our Sand Preservation FabricTM to insure that the good quality volleyball sand you've invested in doesn't wash away with rain fall.
We've tested over 30 different types of soil separation fabric and only sell the fabric which allows a great amount of water to travel through while preserving fine volleyball sand.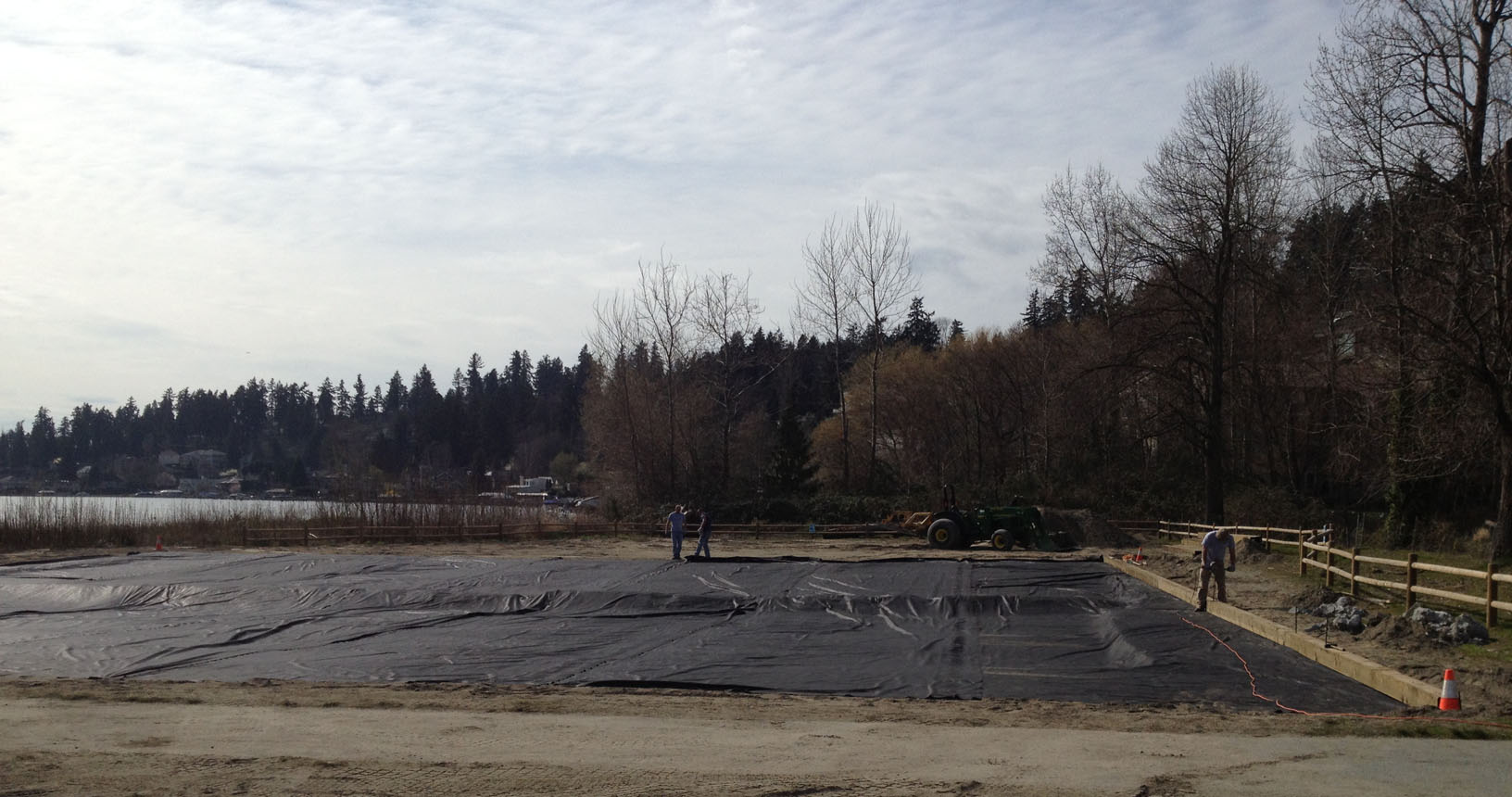 Installation of the Sand Preservation Fabric
3) Selecting an Edge:
After excavation has been completed you will want to select an edging material. When it comes to collegiate volleyball with school reputations, coach reputations, scholarships and possibly future professional careers the edge you select is very important from a safety point of view. Volleyball is a sport played in the air and a player chasing after a volleyball looking up in the air shouldn't have to worry about diving for a ball during a critical play and landing on a concrete, wood or other hard edge.
This is why we manufacture two products for the sport of sand volleyball. Edge GuardTM and Curb PadTM. Both products products provide a safety cushion to protect your players from injuries.
Edge GuardTM is designed to be installed on a treated 2 x 12 buried vertically one inch below grade. Edge GuardTM is then attached to the top of the board providing cushion if a player lands on top while being rigid enough to accept a weed wacker when maintaining the grass edge.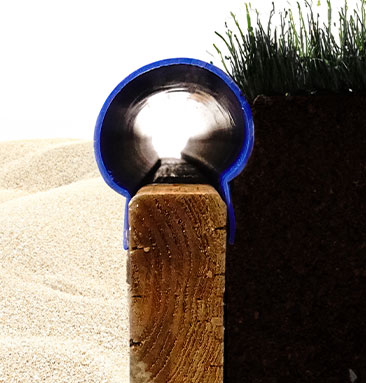 Curb PadTM is designed to affix to the top of concrete or wood curbs wider than 2" so that the inner and top edge of the material is padded for protection while the outside edge facing the grass is left unpadded to allow maintenance of the grass.
18 oz vinyl covering
2" High Compression Foam
2" High Strength Velcro attachment to the concrete curb. Velcro allows the pad to be removed for maintenance and storage.
Available in our 90 Degree or Topper styles
Your concrete curb determines the size we manufacture
Call 1-800-494-3933 for pricing.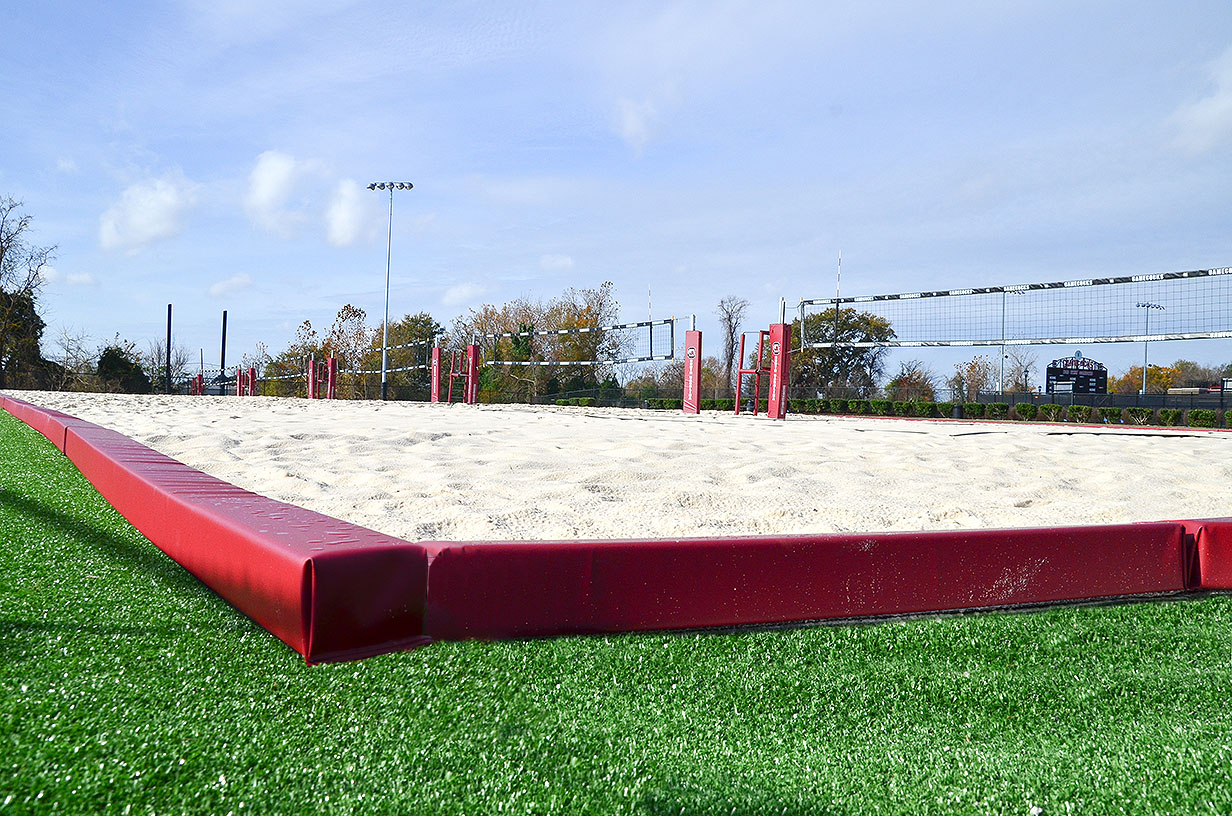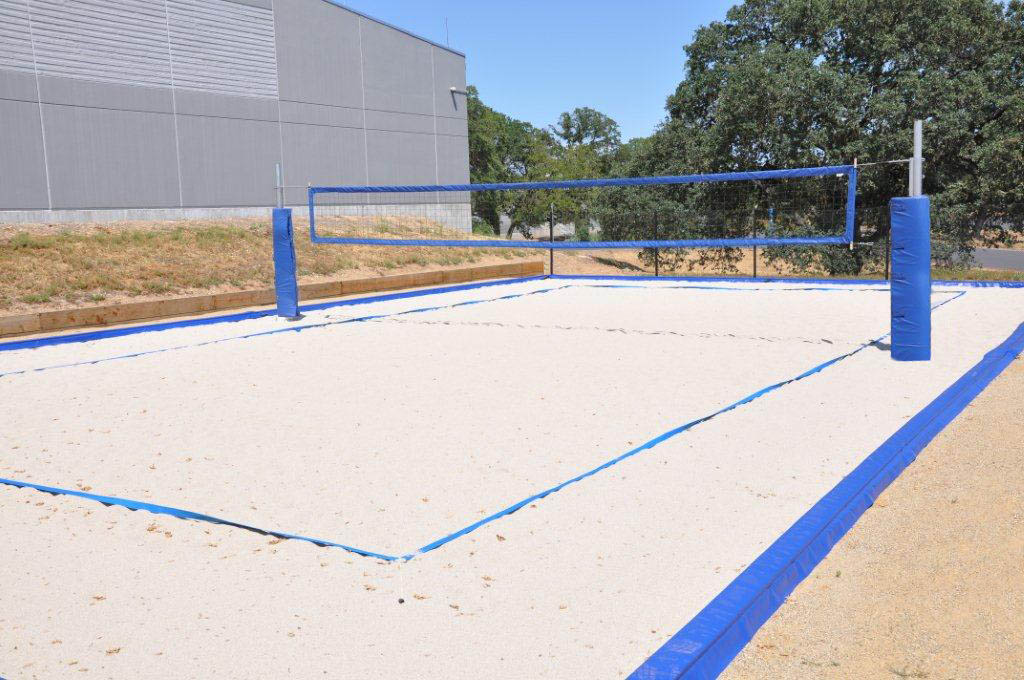 4) Selecting Volleyball Sand:

After excavation, drainage and court edging has been completed you will be ready for your volleyball sand. We enjoy the challenge of helping people select the best volleyball sand for each project we work on. As the leader in beach volleyball court construction, we have a thorough knowledge of what is good and bad sand for volleyball. We have worked on countless projects in the past where local sand and gravel companies have lead customers towards a sand they regret purchasing as soon as people start playing volleyball on it. Sand and gravel companies are in business to sell sand and they don't offer a money back guarantee if you are not happy with it for volleyball use.
We've invested thousands of dollars in time and equipment to determine what is good, low cost volleyball sand throughout the United States.
We source, blend, screen and sell sand that is ideal for volleyball. We are not searching for and offering Golf Coarse Bunker Sand, Masonry Sand, or Play Sand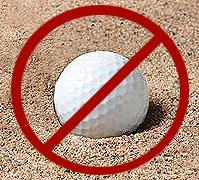 Do not use golf course bunker sand for volleyball courts!!!
Masonry sand is typically full of dust, little pebbles, or both. Masonry sand on average will typically have 3-5% dust in it with most companies screening out only 1/8" rocks or bigger. We've seen many courts built with Masonry sand that have 10% pea gravel content!!! These courts built with this bad sand will be dusty, cut your feet, knees and elbows and will pack often after rainfall. Finding sand without these three issues hasn't been easy. We spend countless hours working on sourcing / blending / screening sand to meet volleyball criteria and we do it often times to compliment the equipment we sell.
Golf sand is made to pass the fried egg test with golf balls. This means if a golf ball hits the sand only half the golf ball submerges in the sand. This is the exact opposite of what you want with beach volleyball sand. You want your knees, elbows and feet to sink in the soft sand. Applying the fried egg test in beach volleyball means substituting a golf ball for a knee cap or elbow and results in a scrape, bruise, bone contusion, dislocated shoulder, broken bone, etc....
Play Sand is designed to be sat in and played with by little kids and is sold at a lower price. To keep the price low they don't remove the dust. It has lots of dust that is very noticeable as soon as you put a bunch of it down and start playing volleyball in it.
The reason we are the leader in the United States in volleyball sand sales. We take a different approach.
We start with sand currently in use at popular spots around the country like Manhattan Beach, Santa Barbara, Ft. Myers, Etc... and make our volleyball sands in major metropolitan areas to closely match these beach sands just like Mother Nature did. The cost is typically more than Masonry Sand since it costs money to pay people to hydraulically spin the dust out of the sand and to remove all of the small pebbles that scrape up your skin. It takes a sand plant a long time to mechanically screen out the small rocks and pebbles when making 200 tons of sand for a standard size volleyball court.
In most areas a homeowner cannot ask a sand plant to make volleyball sand. Sand companies do not want to stop production of their profitable sands to make a few hundred tons of volleyball sand. Since we build so many courts around the country we can pay them to do this process and in return re-sell the sand to the volleyball marketplace in need of this product.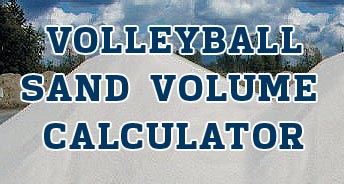 Your budget may dictate the depth of sand used but keep in mind if you go with a lesser depth, plan on raking or shoveling back sand from the middle of your "dished out court" to the sides about once a week or more (depending on how often the court is used).
The playing area alone will consume approximately 100+ tons of sand at a depth of approximately 12 inches. (Call us at 1-800-494-3933 for more detailed information and pricing)