Constructing a Beach Volleyball Court
NOTE: This instruction set is copyrighted and is not to be copied, forwarded, or re-posted without written permission from VolleyballUSA.com
To place orders or ask questions please call toll free 1-800-494-3933 Monday through Friday 8-6 PST!
In addition to the instructions below we often prepare site-specific instructions at no charge for our customers. We also have experienced contractors in most areas which can help you with constructing a volleyball court. Whether you are an Eagle Scout building a court with money you have raised from car washes or an athletic director building courts for a Division 1 University, we can help you within your budget. Please call 1-800-494-3933 for assistance.
Recommendations for Strong and Durable Volleyball Court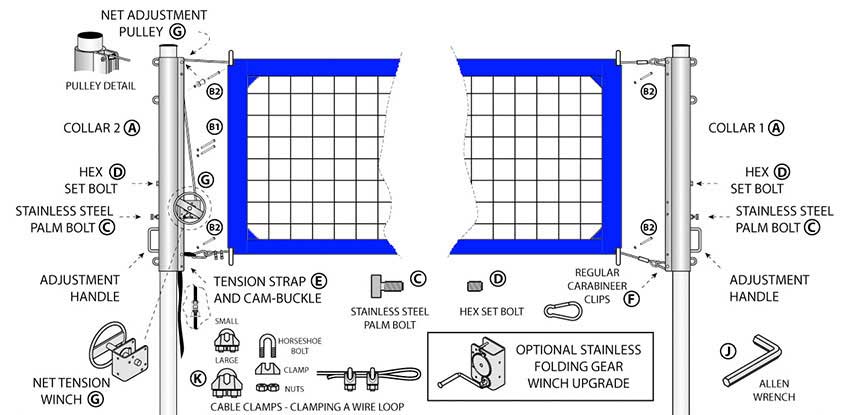 Net System Components
POP - Bazooka Professional Outdoor Poles
Set includes heavy duty easy to adjust hardware. System can be adjusted with just one stainless steel palm bolt for any net height (volleyball, badminton, tennis, etc..)
(2) 3.5 inch Outdoor Ultra Stiff Posts
Choose between 12' anodized aluminum or 10.5' galvanized steel poles (either pole can be ordered in longer lengths if preferred)
High Strength single unit hardware with stainless steel set screws and nuts
Available with a powder coated or a completely stainless steel winch
Single point adjustment, no ladder or chair needed.
Perfect for sand courts and prolonged outdoor use.
Top and bottom internal drive caps for poles
Lockable winches to prevent vandalism and theft
Available for side by side systems
Posts can be permanently placed in the ground or you can purchase optional seamless heavy wall aluminum ground sleeves with removable caps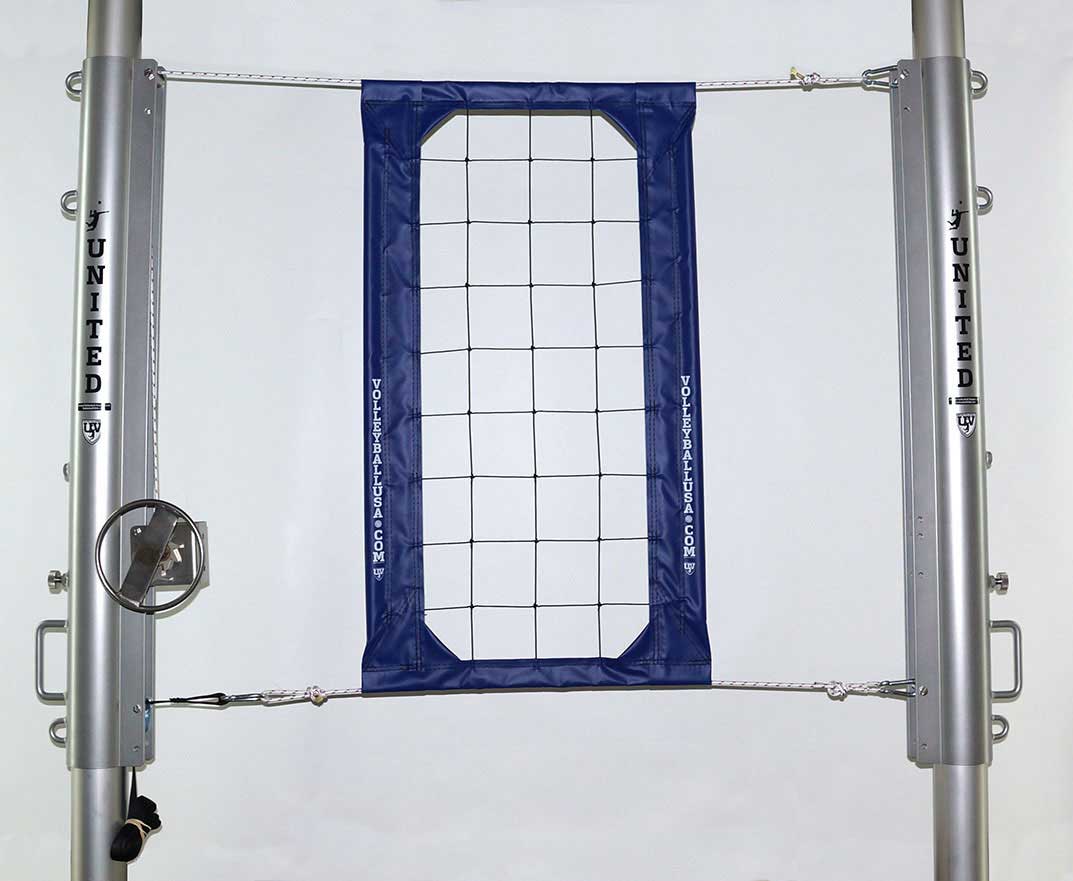 Manufactured with Marine Grade Materials
Professional Beach Power Net
The Professional Pro Beach Power Net (PBN4) is a high quality volleyball net used by Division 1 Universities, Pro Tournaments, and home courts alike. The materials we use are Ultraviolet ray and mildew resistant, preventing color fading, weather damage, and ensuring prolonged outdoor use. Offered in 12 different color options, stronger and easier to handle cable alternatives, and 3 different side tensioners.
32 ft x 39 inches (available in custom widths for your court needs)
Galvanized Steel Cables for top and bottom lines - 42 ft long (also available in Kevlar or Stainless Steel)
Tie Rope side tensioners (available as Velcro Straps and Rope Ratchets
#42 knotted nylon netting
22 oz. 4" tapes
1 - 1/8" maple wooden dowels
Available in 12 colors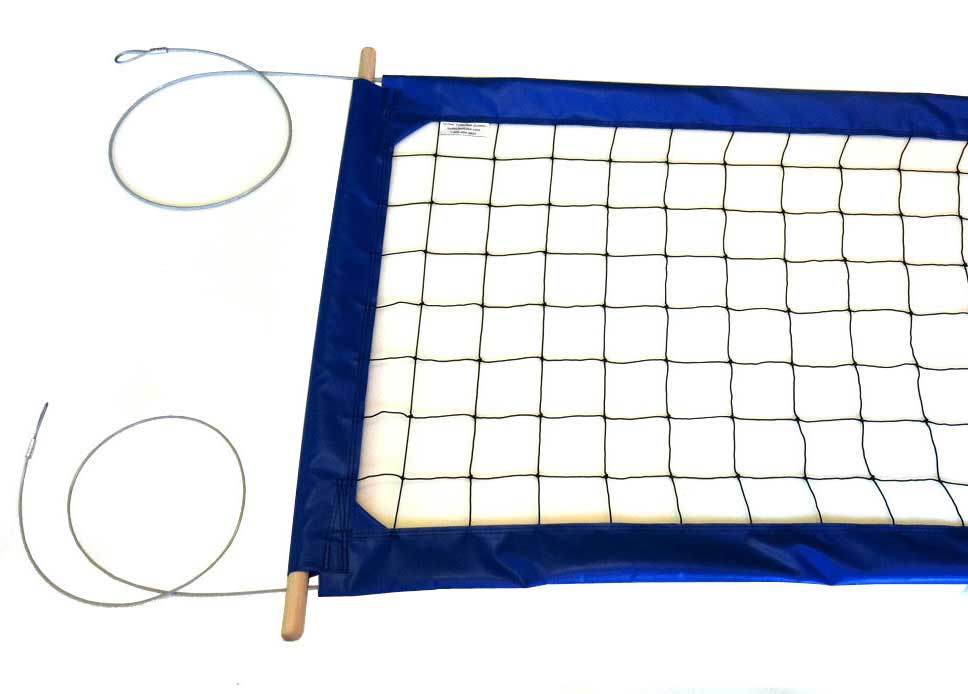 Professional Beach Boundary Lines
Heavy duty webbing court boundary system, perfect for sand courts and prolonged outdoor use. Adjusts to official court size with plastic adjustable buckles on each side, allowing you to fine tune the court dimensions.
Heavy weight webbing with stitched steel corner rings, center court markings, two hand winders for storange.
(4) Five inch steel grass stakes with 2 ft of bungee cord
(4) Plastic sand plates with 2 ft of bungee cord
Permanently attached bungee cords enables the boundary to form perfect rectangle which stretches for safety
Available in Blue, Red, Yellow and Black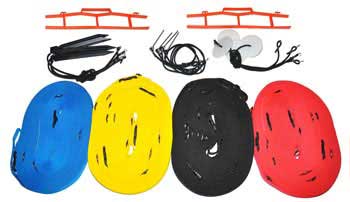 Sand Volleyball Court EDGE GUARD™
Keep grass from growing into your sand with our EDGE GUARD™. Made with UV resistant plastic for years of outdoor exposure. Easily screws on top of 2 by 12 treated lumber with 1 inch cushion gap. No cutting needed.
High Density Polyethelene Plastic (same as milk jugs, can be recycled)
Available in Blue, Dark Green, Black, and Red (call for other possible colors)
.10 Wall thickness to maintain cushion on warm days. (Some of our competitors sell .07 wall which doesn't protect in warm weather. It gets too soft with warm weather and compresses down to the wood.)
Only $4 per foot
Buying in bulk? We can discount down to $2.93 per foot.
Call 1-800-494-3933 to order
Volleyball USA Deep Basket Sand / Grass Ball Carts
Made per the request of coaches who want a non-rusting, strong aluminum frame ball cart with wheels capable of rolling easily in the sand and grass.
Wheels are designed to not swivel as our testing showed the swivel wheels in sand make the cart harder to pull and the non-swivel wheels easily displace the sand and go in the direction the cart is pulled.
Includes removable pull leash which easily stores when not in use.
Replaceable wheels
Available in 12 colors of 18oz. vinyl
Custom printed covers available for extra cost
Call 1-800-494-3933 for pricing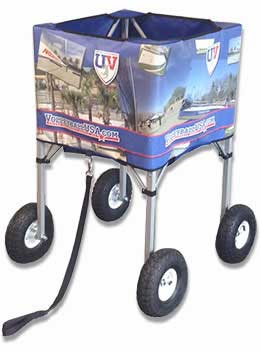 Shown with optional custom printing
Beach Volleyball Sand Maintenance: United Volleyball Supply's Grate Sand Device
Get clean "GRATE" sand, not "RAKED" sand! Simply pull the Grate Sand Device through the sand and lift the handle to a 45 degree incline. Fine beach sand drops right through while debris tumbles towards the back. Repeat as necessary.
Available with different screen sizes (Fine, Medium, Coarse) to filter tree debris, coarse sand, garbage, etc.
Made of galvanized steel and perforated aluminum
Pneumatic wheels
Interchangable screens for fine tuned sand cleaning
Sand must be completely dry for best results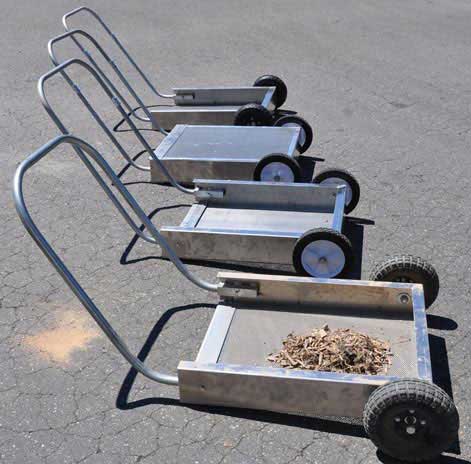 Grate sand with ease
Volleyball Court PERIMETER / ENCLOSURE packages
Don't chase after volleyballs!
Play twice as many games in the same amount of time because you don't have to play hit and fetch
A must have for commercial applications when trying to ammocodate lots of players or when you have only the space for one or a few courts
We manufacture all of this equipment and can make packages to fit your court needs

3ft Ball Stop Fence
Pricing
| Product | Retail Price | Our Guaranteed Low Price | Additional Info |
| --- | --- | --- | --- |
| High Quality Beach Volleyball Sand | N/A | Varies based on sand and location | We often have multiple choices per state and will ship free samples if our pricing is acceptable. Call 1-800-494-3933 for further information. |
| Pro Outdoor Standards | $995 | $590 - $16250+ | Many pole systems available. Call 1-800-494-3933 for further information |
| Outdoor Pole Pads (Set of 2) | $340 | $260 | Multiple styles available. Custom printed padding is offered as well. |
| Professional Power Net | $389 | $210 | Low to high quality nets available in up to 12 colors and custom lengths |
| Permanent Mounted Boundary Lines | $69 | $53 | Boundary lines available in 2" and 4" thickness |
| Edge Guard™ | $4 per foot | $2.93 per foot (bulk pricing) | Acts as a safety cushioned border around a sand court |
| Optional Court Enclosure | N/A | $73 to $4600+ | Keeps volleyballs close without having to play hit and fetch |
| Freight | Varies | Varies | Varies |
Outdoor Volleyball Court Gallery (New Photos Coming Soon!)
Call 1-800-494-3933 to place orders or ask questions! Available Monday through Friday 8AM - 6PM PST!