Constructing Volleyball - Basketball - Badminton - Pickleball Driveway Court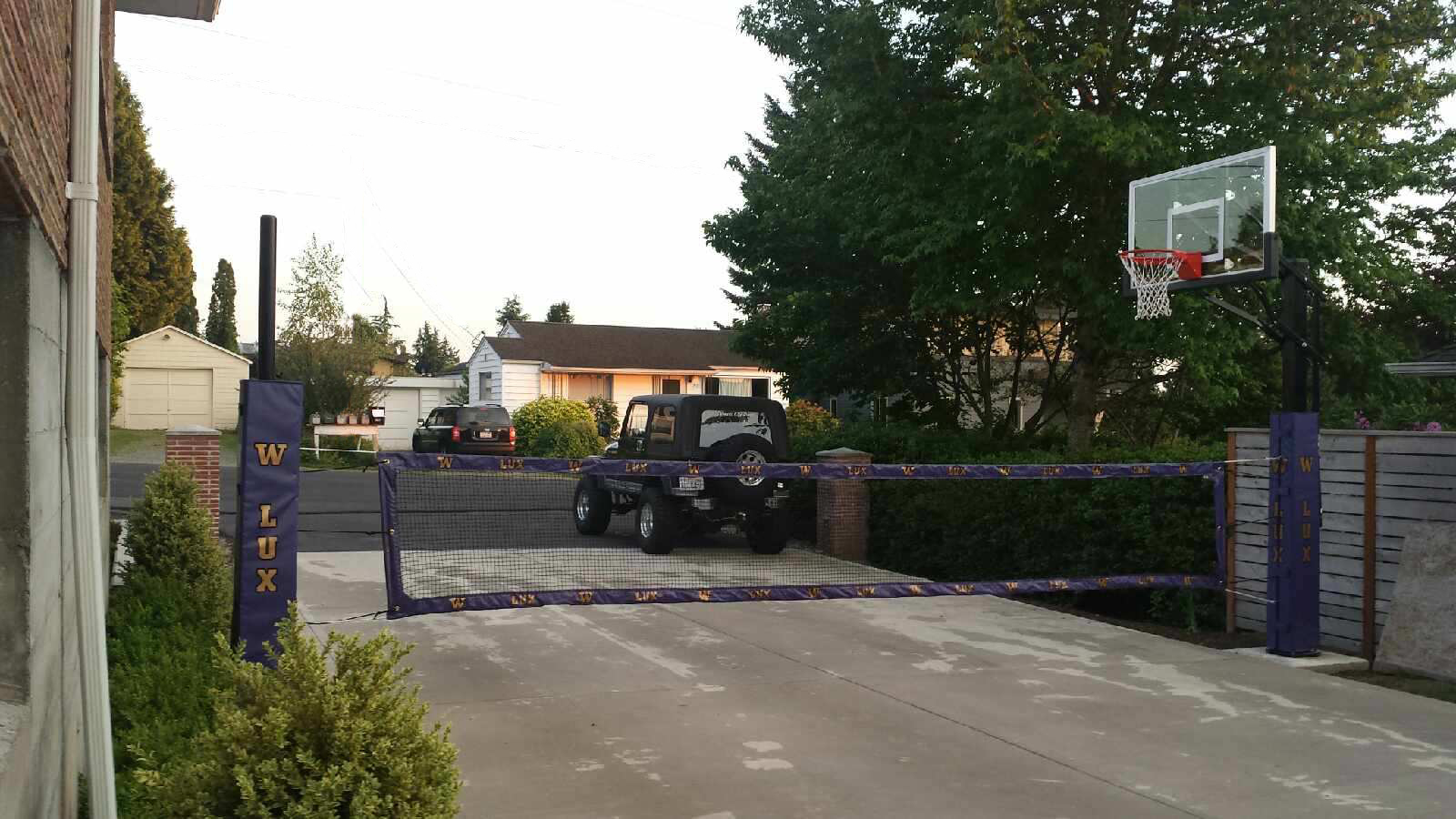 Constructing a driveway multi-sport court is quite simple. Install an adjustable basketball hoop on one side and an adjustable volleyball pole on the other. The net is tensioned on the volleyball pole and can adjust up or down from volleyball to badminton to pickle-ball / tennis heights. The net connects to the basketball pole with non-marking hook and loop straps and to the volleyball pole at your desired net height. The net is custom sewn to fit the width of your driveway and the pads are custom sewn to accept a net connection and protect players from pole injuries while playing basketball when the net is not connected.
We also offer driveway nets to keep balls from entering the street. (Call 1-800-494-3933 to discuss driveway widths and set-up / storage options)
Volleyball Side
Pop Bazooka Single Pole

One 3.5 inch O.D. ultra stiff post.
Choose between heavy-wall, 12' anodized aluminum or 10-1/2' to 12' galvanized steel poles. (Either pole can be ordered in longer lengths if preferred)
High strength single unit hardware with stainless steel set screws and nuts
Available with a powder coated or a completely stainless steel winch
Single point adjustment, no ladder or chair needed.
Perfect for prolonged outdoor use.
Top and bottom internal drive caps for poles.
Lockable winches to prevent vandalism and theft.
Posts can be permanently placed in the ground or you can purchase an optional seamless heavy wall aluminum ground sleeve with a removable cap.
Basketball Side
Adjustable 5" Basketball Pole

36" x 60" x 3/8" clear, tempered glass backboard with Limited Lifetime Warranty
5" Square .12 wall thickness with Limited Lifetime Warranty.
36" Safe play area at 10'
42" Safe play area at 8'
Aluminum Backboard Frame
Qwiklift rear mounted height adjustment handle
Goal Height Indicator
Infinitely adjustable from 7-1/2' to 10'
Gymnasium quality heavy duty competition flex goal with Limited Lifetime Warranty
Removable bolt down base
2" High Compression pre-formed pad that allows for volleyball, badminton and pickleball play while protecting players for basketball




Retail $3,995
Our Price $2,795 without printing
Our Price $3,295 with printing
(There are a lot of ways to adjust price for this system. Eliminating the pads, changing nets, etc... If you are working within a certain budget please call us and we can quote different items.)